---
---

YOUR SHOPPING CART
Items in Cart:
Value inc carriage (exc tax):
---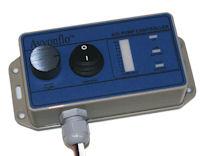 Avvonflo Pump Controller.
---
if you have a friend or colleague who would find this page interesting!
---
Call Us Mon-Fri (11.30AM - 8.30PM Excluding public bank holidays)
UK-07768 206649
---

Send us an Email!
---
AVVONFLO™ PUMP CONTROLLER (DISCONTINUED)
Our 825 Avvonflo™ Pump Controller has been discontinued and is no longer available. A new version is in pre-production design and will be avilable soon!