---
---

YOUR SHOPPING CART
Items in Cart:
Value inc carriage (exc tax):
---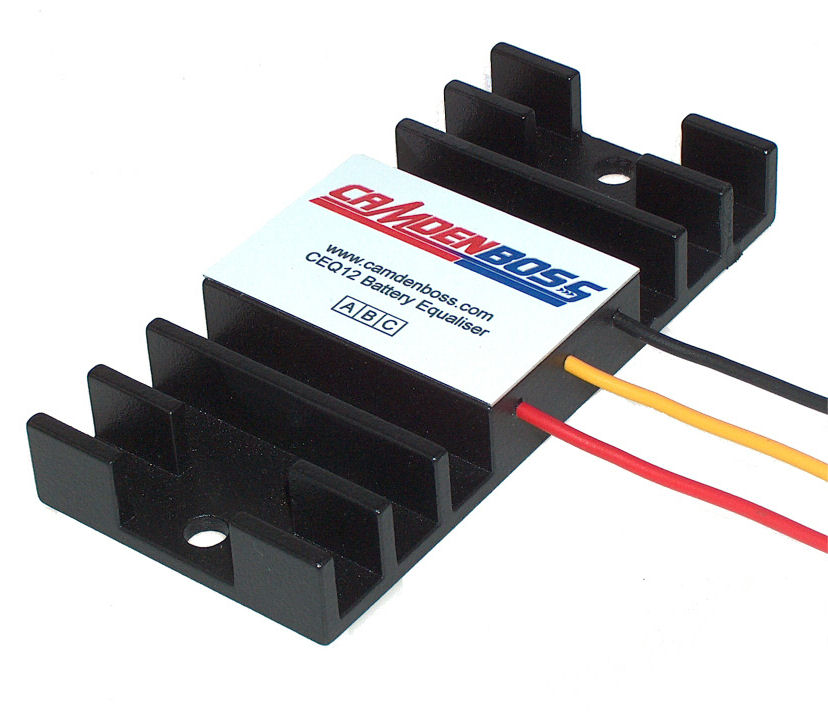 Battery Equaliser.
---
if you have a friend or colleague who would find this page interesting!
---
Call Us Mon-Fri (11.30AM - 8.30PM Excluding public bank holidays)
UK-07768 206649
---

Send us an Email!
---
Battery Equaliser.
The 12V CEQ12 Battery Equaliser (Pictured) is a solid state electronic device which functions by measuring 2 series connected batteries and automatically compensating for battery voltage imbalance between each one
when the measured differential is approximately 0.05VDC or higher.
In many applications where a pair of batteries is connected in series, small imbalances occur which increase over time until one battery becomes overcharged and the other undercharged. This leads to total failure of the battery installation in the longer term and a loss of capacity in the short term. Batteries, which are expensive, can reach the end of their life far earlier than they should if the problem is not identified and rectified quickly, not an easy thing to accomplish in remote unattended applications.
In battery installations where taps are made midway through a battery string for small loads, the problem increases and the imbalance cannot be corrected without either charging each battery individually which is expensive and often impossible to achieve, or by manually correcting the imbalance which is time consuming and rather impractical.
The Battery Equaliser prevents any mismatched voltage between series connected battery packs by calculating the ideal voltage of each battery and adjusting the voltage of each one accordingly.
A single 12 cell Battery Equaliser is designed to monitor 2x 12V batteries and a number of Equalisers can be used to monitor higher voltage battery strings. For example to balance 9 series connected batteries which a typical 110V installation uses, 8 Battery Equalisers are installed.
The Battery Equaliser can be purchased for use on all types of 12V battery including flooded, gel filled, marine and deep cycle types in all applications. The Equaliser is sealed for use in harsh environments. A Battery Equaliser for 6V and 10V blocks is also available.
For further information please telephone CBC Design on 07768 206649 (11.30AM to 5.30PM Mon-Fri) email us, contact CamdenBoss on 01638 716-101
or download a data sheet by clicking the picture.